Our "Little Italy District San Diego Real Estate Spotlight" features a popular neighborhood filled with culture and ethnicity.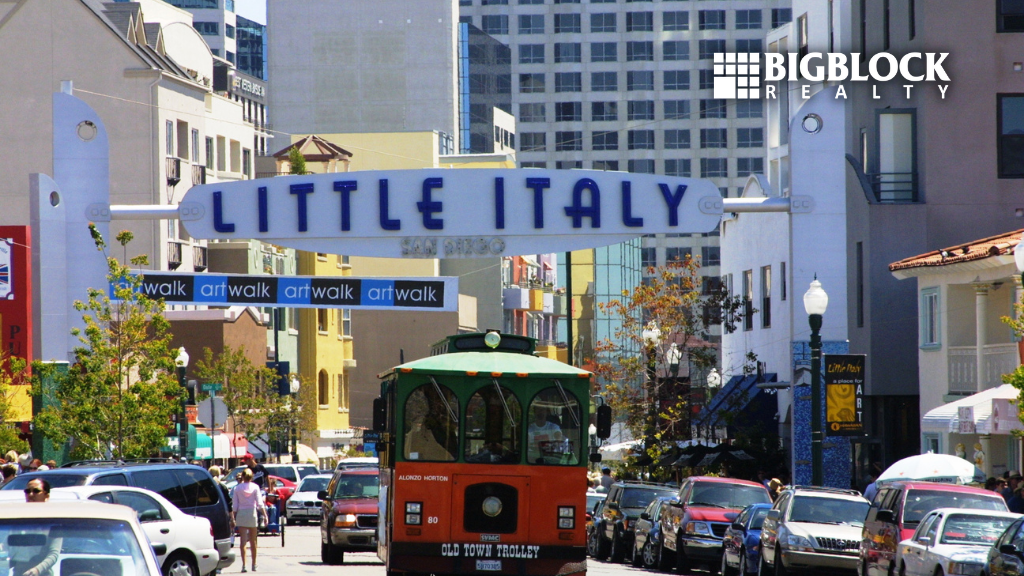 Wikipedia describes San Diego's Little Italy district as bustling with Italian delis, grocery stores, restaurants, and piazzas. Frequent festivals and cultural events along with its weekly farmers' market (Mercato in Italian) make it one of San Diego's most popular neighborhoods.
The Advisory Council on Historic Preservation describes Little Italy as a "vibrant neighborhood" with a population of 3,000 residents and "more than 400 businesses". Source
Little Italy District San Diego Geography
Located on the northwest end of Downtown, Little Italy sits west of Cortez Hill, southwest of Bankers Hill, southeast of Core, south of Middletown, and north of Columbia.
It sits on the side of a hill rising in elevation as you approach Interstate 5. The commercial corridor, India Street, runs through the heart of Little Italy. It features historic properties like the single-family bungalow-style homes intermingling with high-density mixed-use buildings.
Little Italy offers a highly walkable 48 square block district. Besides Italian cuisine, India Street offers international restaurants for all cravings.
Little Italy District History
Beginning in the 19th century to the 1970s, Italian-Americans originating from Sicily and the Italian Riviera created a boat-building industry for the American tuna fishing fleet. San Diego became known as the "tuna capital" in 1911 with the founding of its first large Pacific Tuna Canning Company.
In the mid-1930s the tuna canneries employed over 1,000 people. A large tuna fishing fleet staffed by Italian and Portuguese immigrants supplied the canneries. Yet, most of the canneries closed during the 1980s due to foreign competition and rising costs.
Little Italy District Community Groups
Three prominent groups support Little Italy:
In 1981, the Italian Cultural Center of San Diego (ICC) formed a 600-member non-profit organization. The center promotes Italian culture by teaching Italian and offers cultural events, lectures, workshops, and classes at all age levels.
Since 1996, the Little Italy Association (LIA) maintains the Community Benefit District. It beatifies and revives sections of Little Itay. The LIA represents Little Italy's businesses, property owners, and residents.
The Convivio Center & Little Italy Heritage Museum promotes Little Italy's heritage, culture, and arts. Also, it serves as a community resource providing events and programs for all ages. Hosts the Little Italy Classic Film Festival showcasing Italian Cinema with English subtitles.
Little Italy District Things To Do
Italian cuisine, Italian culture and heritage events, and Piazzas to stroll around showcase San Diego's only truly Italian neighborhood for all ages.
Too many exciting attractions with Italian flavor to explain in this blog. Thus, we provide you with links to get more information.
Trip Advisor List of Things To Do in Little Italy
Overall, Little Italy scored 4.5 Stars (out of 5) from 2,006 reviews for the many attractions listed in Trip Advisor. Here are Trip Advisor recommendations:
Best Little Italy Restaurants – Here
Best Little Italy Attractions:
Little Italy Mercato Farmers' Market, earned 4.5 Stars. A great place to visit on Saturdays for the fresh fruits and produce, artisans sharing their creations, with many vendors selling all sorts of interesting wares in kiosks. This Italian-style farmer's market offers fresh flowers, seafood (like local sea urchins), meats, and gourmet meals like bone-in broth.
Our Lady of the Rosary Church, a landmark Catholic Church earning 5 Stars. Founded by the Salesian priests in 1925 to serve the Italian community. Feature's hand-painted frescoes evocative of the Italian Renaissance.
The Firehouse Museum earned 4.5 Stars showcasing many fire engines (steam), fire trucks fire hats, and old clippings dating back 150 years. Fire Station No. 6 served Little Italy from 1915 to 1962.
The Little Italy Association of San Diego Things To Do
Besides Trip Advisor, the Little Italy Association of San Diego recommends these activities:
Little Italy Piazzas
A "Piazza" means a square in an Italian city or town. Similar to a traditional Spanish "plaza". A place where people congregate and socialize. The most famous piazza in the world is Saint Peter's Square in Rome.
Piazza della Famiglia since 2018 offers residents and visitors a stroll through its 10,000 square-foot Italian-style piazza on West Date Street between Columbia and India Streets. It features a beautiful large tiled fountain on its east side with its cobblestone street lined with tables, chairs, and umbrellas. The public can sit and enjoy the view of San Diego Bay while enjoying coffee, lunch, and socializing with family and friends. It's known as the "Heart of Little Italy".
The La Jolla Mom tourist site describes Little Italy's five piazzas as "The center of public life in Italy for hundreds of years. All piazzas are closed to car traffic and host cultural events, concerts, and other gatherings. Perfect for people watching." Source
More Piazzas in Little Italy links:
Got Questions?
Other Little Italy Attractions links:
Also, the Visit California site provides an interesting Little Italy Neighborhood Guide.
Likewise, the KCET organization displays quality photos of the many attractions in Little Italy Here.
Little Italy District San Diego Nearby Schools
Yelp offers The Best Elementary Schools near Little Italy, San Diego, CA as:
Little Italy District San Diego Real Estate Spotlight – Conclusion
Our Little Italy District San Diego real estate spotlight shows you how an Italian community creates a popular walking neighborhood.
Italian Flavor – Enjoy the many Italian delis, restaurants, and grocery stores along with food festivals. Also, walk along India Street to enjoy international cuisines.
5 Piazzas – Walk along Little Italy's five piazzas, including the famous Piazza della Famiglia, featuring fountains and outdoor Italian cafes on traffic-free cobblestone streets.
Community – Three Little Italy organizations preserve the historic buildings and promote Italian culture with language classes along with the Little Italy Heritage Museum.
Farmers' Market – The Little Italy Mercato Farmers' Market rated 4.5 Stars by Trip Advisor offers fresh flowers, produce, seafood, and artisan wares every Saturday.
Italian Culture – Amici Park and Amici House offer the public Italian culture, events, and games. Also, you can take Italian language classes.
Dog Lovers – The Little Italy Dog Park makes the resident dogs and their owners happy with plenty of room to romp and play.
Nearby Schools – Six good public and private schools are near the Little Italy District.
Even if you are not of Italian heritage, your family will find year-round events and activities within walking distance of your new home in Little Italy.
Want To Live in San Diego's Little Italy District?
Check out our current Little Italy listings.
Contact us to learn more about the benefits of living in Little Italy for your whole family.
Steven Rich, MBA – Guest Blogger
Search Local Real Estate Below Or Use Our: Home Search Tool: [idx-quick-search format="horizontal"]
HAVE ANY QUESTIONS?
Let us know, we love to help:
Call: (800) 550-3209
or Click: www.BigBlockRealty.com/contact
Big Block Realty – CA BRE #01885775